Level 6: Your name on the Green Envy - FOREVER!
$

500.00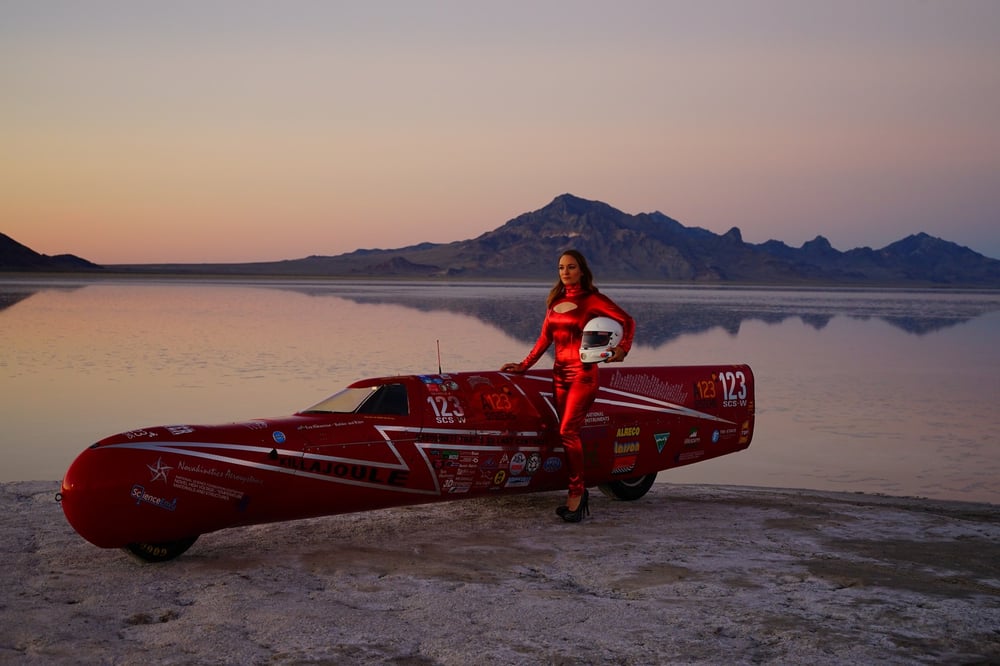 Want to be a part of history?
This is your chance to have YOUR name on the Green Envy streamliner FOREVER!
Don't you wish that your name was on the Spirit of St. Louis when Charles Lindbergh crossed the Atlantic and forever earned his place in the history books? Don't miss this opportunity to have your name on another vehicle that already made history, and will make history again!
In addition to help us make history, these are the awesome things you get at this supporter level:

- Get your name on the Green Envy for as long as it exists! All other supporter levels will only get the name during the year they join as a supporter. This is an option that doesn't need to be renewed! (Approximately 1/2" (12 mm) high font).
- Get a postcard signed by rider/builder Eva Hakansson.
- Get a 150 mm long 3D printed scale model of the KillaJoule or Green Envy, mounted on a personalized platform. The kit is complete with a matching scale 3D printed model of Eva as well! :-)
- Your name will be listed as a supporter on GreenEnvyRacing.com.
If you don't want any more stuff, you can opt out of the postcard and scale model.
The names on the KillaJoule were placed on the sidecar. The names on the Green Envy will be placed in a similar fashion.
If you want to support in the name of somebody else, please specify that name in a message (there is a box at the bottom of the BigCartel checkout page - you might have to scroll down to see it).
Shipping included to the entire world. Depending on Eva's workload, it may take up to 4 weeks before you get the card and scale models, so please be patient (we are busy building a record-breaking motorcycle, after all). The color may vary slightly depending on the availability of printing filament.
IMPORTANT INSTRUCTIONS:
- Make sure to include a note with the name you want on the platform! Either include a message when you place the order, or email directly to merchandise [insert "at" here] evahakansson [dot] com. Include instructions if you want another message on the platform as well.
- Unless you specify differently, the same name will be on the signed postcard.
- If you want additional cards signed to someone else, please just include that in the note. I will include up to 5 extra postcards signed for kids, grandkids, or whoever you would like.
-----------------
Having trouble with the order? See the FAQ page for an alternative solution, please!
15 % GST included for orders placed from New Zealand. Please contact us if you need an invoice showing the GST. Prices are in US dollars.
Share